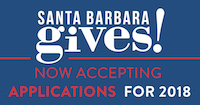 MOST RECENT NEWS

The former Santa Ynez resident is a Russian citizen.
Post-1/9 support will still be available at readysbc.org.
The city followed most of the state's ADU rules, though two large projects swept through before the ...
Terrell Horne III was murdered near Santa Cruz Island in 2012.
Program offers two free years to dedicated students.

'The homeless' are from every community, and each has a legal, if ...