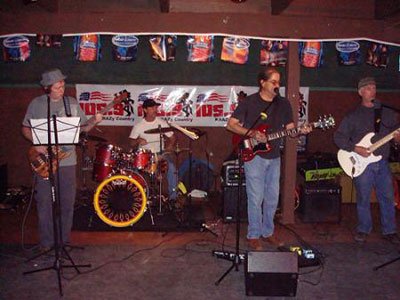 Absentee Ballads

"Creekside Spooky"

Musicians
Genre: Blues/Rock
Sound description: Loud and danceable.
RIYL: The Beatles, The Rolling Stones, Cream, Eagles, 1960s and 70s rock.
Web site: http://www.myspace.com/absenteeballads
Email: jwl420@cox.net
History
The Absentee Ballads band was formed in 2008 when guitarist Tom Towle joined his longtime friend and fellow guitarist Joe Lombardo, bassist Aaron Peterson, and drummer Rick Heyhoe in playing classic rock and blues at local venues in and around Santa Barbara. The group began to gain recognition with their tight harmonies and cohesive musical stylings.
Upcoming shows
None scheduled
Formed
2008, Santa Barbara, CA
Current status
The Absentee Ballads band is available for booking private events, community events, and for playing clubs and restaurants.