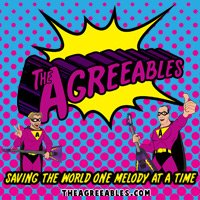 The Agreeables
Musicians
Genre: Adult Alternative
Sound description: Passionate eclectic indie rock
RIYL: Josh Ritter, The Jayhawks, James Taylor, She & Him, Glen Hansard and Marketa Irglova
Web site: http://www.theagreeables.com/
Email: info@theagreeables.com
History
Hailing from sunny Southern California, The Agreeables are led by Rick Cipes whose prior experience is as a journalist, with over 40 publications to his credit, including: L.A. Times, Playboy and ESPN Magazine where he was a humor consultant.
The Agreeables debut EP "Bonus Tracks" is currently on the playlists at: KUSF (Univ. of San Francisco), KSDT (Univ. San Diego), KDHR (Cal St Dominguez), NBTMusicRadio, AMAZ Radio, BLUR FM, KNHR and KHJM Radio.
Other members include Devon DeAngelo.
Upcoming shows
None scheduled
Formed
2012, Santa Barbara, CA
Influences
The Beatles, James Taylor, Cat Stevens, Jackson Browne, Cracker, Bright Eyes, The Jayhawks, Bruce Springsteen, Aimee Mann, Carol King.
Current status
Playing around Santa Barbara and L.A.