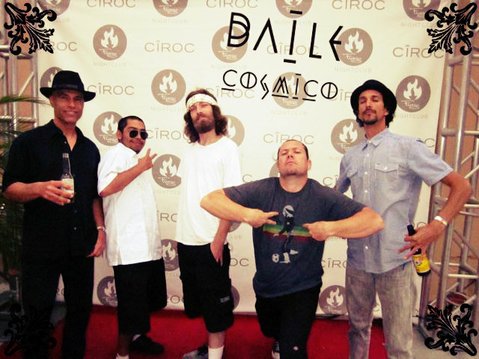 Baile Cosmico
Web site: http://bailecosmico.com/
History
Baile Cosmico (cosmic dance) started as trio that incorporated electronic sequences with live drum set and vocals to generate its largely reggae, Latin, and funk grooves. Since relocating to the Santa Barbara area, our founder and bandleader Fernando Hernandez, aka Nando Sun, has shape shifted the project into an organic, high energy live band by collaborating with a variety of local area musicians.
Baile Cosmico's intention is to connect with you in that place of natural rhythm, movement and joyful expression. Cosmically inclined and aligned through a love for soundscapes dubbed out with space echo and tape delay, our multicultural roots keep the afro-beat and Latin rhythms close at hand. A listener might readily recognize influences such as Ozomatli, Buena Vista Social Club, the Marley family, Manu Chao and the Roots.
While in Los Angeles, B.C. played for fans in such places as the Grand Star Jazz Club, The Airliner, The Joint, and Long Beach's Rhythm Lounge. We are excited to be kicking off the newest incarnation of our group here in the Santa Barbara community and are powering cosmic super drives for our next show in a galaxy near you!
Upcoming shows
None scheduled
Formed
Santa Barbara, CA