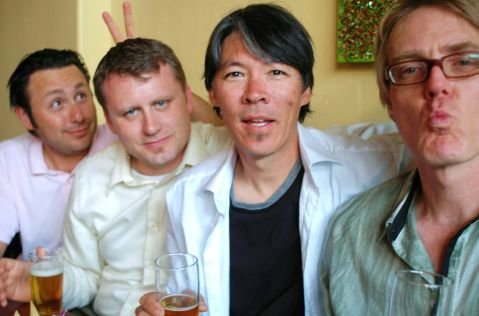 BEER

:30

"American Girl"
"Blister In The Sun"
"Float On"
"Get Down Tonight"
"Let's Dance"

Musicians
Genre: Cover band
Sound description: Sounds like The Killers, INXS, Finger Eleven, KC and the Sunshine Band, Dramarama, Marvin Gaye, Cake, Grand Funk Railroad, Modest Mouse, Rolling Stones, Georgia Satellites, Violent Femmes, Rick James, Radiohead, Cracker, The Offspring, The Clash, Dynamite Hack, U2, Billy Joel, T-Rex, Billy Idol, Beastie Boys, Willie Nelson, Puddle of Mudd, Van Morrison, Red Hot Chili Peppers, Stevie Ray Vaughn, Elvis, The Church, Sublime, Devo, Joe Jackson, David Bowie, The B52's, Franz Ferdinand, Wild Cherry, KISS, Johnny Cash, Wall of Voodoo, Lit, ZZ Top, Steve Miller Band, John Fogerty, Lenny Kravitz, The Ramones, Nirvana, The Plimsouls, The Presidents of the United States of America, Beck
RIYL: KJEE, KTYD, forgetting about your week and escaping to a very fun place.
Web site: http://www.beer30rocks.com
Email: smilin24777@yahoo.com
History
Mike played drums for Santa Barbara bands Nation Of Lepers and Billy Sunshine. Norm played bass and sang back up for Leadhead and Buttcheek Doofus. Bryan perfected his chops at the Rock God college G.I.T. Ace blew in from Iceland of all places with exceptional vocal and guitar abilities.
Norm met Ace by chance at an impromptu jam session in what turned into the Carpinteria cover band T.A.R. Over the course of four years in T.A.R. they honed their classic rock cover song skills. Recognizing the need for a local band that play songs newer than 25 years old, Norm and Ace struck out to form a new band focused on performing newer alternative rock covers like the ones they enjoyed listening to when they weren't performing. Norm contacted long time friends from the S.B. scene Mike and Bryan and promptly formed the band BEER:30.
The result is a surprisingly wide variety of enthusiastic music ranging from alternative rock and disco to classic rock and an occasional country song (just to freak out the crowd).
Upcoming shows
None scheduled
Formed
2004, Santa Barbara, CA
Influences
Too many to mention
Current status
Gigging and going strong.