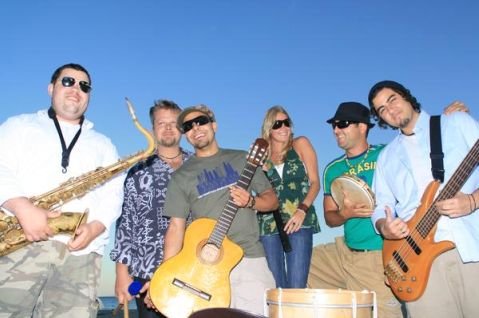 Beleza Pura

"Maracatu (live)"
"Moro no Brazil (live)"
"Na Roda"
"Nos (live)"

Musicians
Genres: Funk, Hip-Hop, Reggae, Rock, Samba
Sound description: Dance-y, happy, party, funky music! Mostly original material with some covers in the mix.

"Beleza Pura mixes hip-hop, reggae, funk, samba, rock and something special of their very own into a grand creation that is hard to explain - and even harder to stand still to." - The Indy
Web site: http://www.myspace.com/belezapurasb
Email: belezapuraband@gmail.com
History
Pyata (vocals), Bruno (guitar), and Arthur (bass), friends from different parts of Brazil, met in Santa Barbara and started a band. The different cultures inside Brazil were beneficial to the music the band creates. The mix got even better with the addition of American born CJT (drums), Ruben Martinez (flute, percussion), and Gustavo (sax, keys, percussion), all of whom are influenced by Mexican music and culture, and Melissa Kepen (backing vocals) a beauty from Rio de Janeiro. With this current lineup, Beleza Pura keeps entertaining and gaining popularity in Santa Barbara.
Upcoming shows
None scheduled
Formed
2005, Santa Barbara, CA
Influences
Jorge Ben, Gilberto Gil, Tom Jobim, Bob Marley
Current status
Active. Playing gigs around Santa Barbara. They're next show is Saturday, August 30 at SOhO.