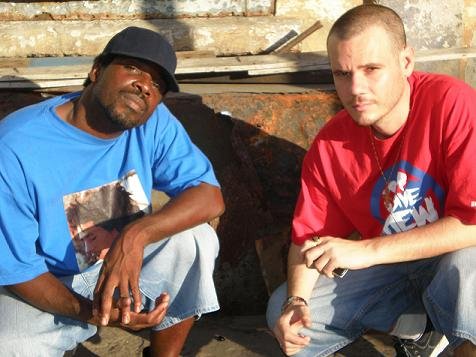 Black Judah

"Say Yeah"

Musicians
Genres: Dancehall, Reggae / Carribean
Sound description: A reggae talent that's been making waves inside and outside of Santa Barbara for more than 10 years, Dylan Judah has collaborated with roots music heavyweights like Elephant Man and recorded solo and collaborative projects. Most recently, Judah has teamed up with Sugar Black to form Black Judah, a groove-worthy duo that combines reggae, dub, and dancehall beats with some seriously heartfelt lyrics. - The Indy
Web site: http://www.myspace.com/blackjudah
Email: dylanhyde2002@yahoo.com
History
Black Judah is the name of the upcoming album and the duo Sugar Black and Dylan Judah, on the Teflon Blood Records, Inc. label. Black Judah music comes from the best musicians in Kingston, Jamaica and Los Angeles, CA, these two singers' respective home towns. Dancehall, Hip-hop and Reggae are the flavors of this release. Black Judah is a mix of amazing singing from Sugar Black and dancehall/ragga vocal styles of Dylan Judah. These songs keep a positive message and set the people free to feel good in the clubs, in their cars or while listening to music at work. Black Judah is here for the masses!
Sugar Black started his musical career at a very young age. As a child he was a member of his school choir, where he was singled out for his talent and began performing as lead vocalist. In 1979 his family moved from rural Westmoreland to Kingston, Jamaica, and it was there that he was introduced to the sound system. At age 12 he became the youngest apprentice of Jamaica's renowned Black Star Sound System.
Dylan Judah is a singer, song-writer and producer who began his musical career as a young drummer, driving the rhythm of his teenage ska band Caught in the Act (C.I.A.), 1988-1992. During those formative years Dylan traveled to apartheid- era South Africa and Jamaica on several occasions. From these most influential and eye-opening experiences, Dylan emerged as an impassioned singer.
In 1995 Sugar Black started recording for Tony Rebel's Flames Production and released a series of singles including the 1997 hit "Oh Jah". Together with Lehbanculeh he participated in Tony Rebel's "Jah Is By My Side" international tour which took place in 1996-97. In 2000 his first full-length CD entitled "Black Attack" was released by US based "Issachar Productions". This past year, 2006, Sugar Black released his second full-length cd "Souljah Story" on ADEX records, and this year, 2007, he will release his third cd, "Black Judah", on Teflon Blood Records, Inc.
Dylan Judah helped to form Cannons, (1997-2003), one of the West Coast's most skillful and heartfelt reggae bands. Non-stop club and festival performances from back in 1997 up until now have been the platform for Dylan Judah to sing his songs from Cannons' first two independently produced cd's: THANKS & PRAISE (1999) & LIFE-ELEMENTS-VISION (2002), and more recently from his debut, solo album DYLAN-JUDAH (2004).
Black Judah most recently performed some large stage shows in Kingston as well as Long Beach, with crowds as large as 20,000. They were well received by the often pitiless reggae and dancehall crowds in both countries. Currently they also have three music videos: "Too Much Gunz", "NoWar" and "Give It To Me". Their fourth music video is in the making for their new tune with Elephant Man entitled "Say Yeah!" This song was tracked at Stone Love's studio in Kingston Jamaica and is currently receiving regular airplay throughout Jamaica.

Upcoming shows
None scheduled
Formed
2005, Santa Barbara, CA