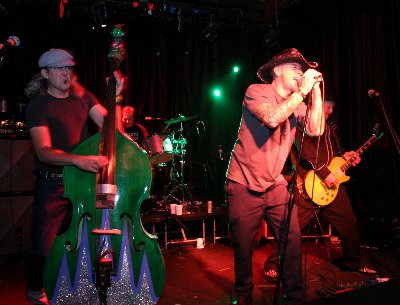 Blazing Haley
Musicians
Genre: Psychobilly
Sound description: Heavy Rockabilly or Cow Punk!
Web site: http://www.myspace.com/rodetoruin
Email: mattarmor@yahoo.com
History
Kick ass local cow punk band that played just about every venue in SB. Including SB Bowl 2 times with Brian Setzer Orchestra..Also proud to have rocked on the same stage with X, The Damned, Social Distortion, Zeke, Bill Haley's Comets, Misfits, The Cramps, Reverend Horton Heat, and many others as well as some of SB's great local bands!…Haven't thrown in the towel yet!
Upcoming shows
None scheduled
Formed
1996, Santa Barbara, CA
Influences
Gene Vincent, The Damned, Stray Cats, AC/DC, Van Halen (DLR)
Current status
Many offers all over the country and Europe, but not enough time to play them all with all the work and family responsibilities. We love what we do so we'll keep playing live when we can, and we'll keep rockin' til we drop!