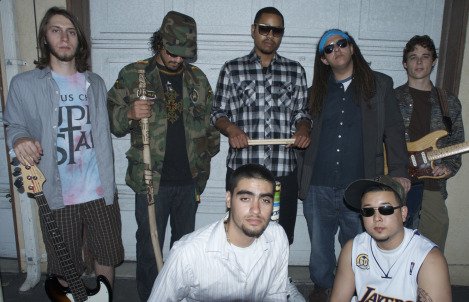 Boombox Orchestra

"Cruisin' Music"

Musicians
Genres: Funk, Hip-hop / Rap, Rock
Web site: http://myspace.com/boomboxorchestra
History
Boombox has concocted a new recipe for music blending an array of funky styles. This band began as a friendship between funky people that met other funky people who wanted to do nothing, but keep on groovin'. As a result, school, work, and sex have been set aside as Boombox takes first priority. The live performances are designed to keep one in a euphoric state of pleasure that maintains an intensity that requires dancing. This locomotion is the key ingredient to having fun. Boombox cannot be described by any number of genres because the point is to break down the barriers of genres and titles of music in creating an eclectic sound that jumps, skips, runs, and often even walks from one style to the next. Most importantly, we use our music to spread all types of love in the form of sounds. Sometimes its the makeup after a huge fight kinda love. Sometimes it's that candlelight dinner by the fireplace type love. But we dare not forget the feet-kicking, toe-licking, hand-clapping, head-banging, arm-flapping funky love!
Upcoming shows
None scheduled
Formed
Goleta, CA
Influences
The Meters, Frank Zappa, James Brown, !!!, Stevie Ray Vaughan, Jack DeJonette, Stanley Clarke, Rage Against The Machine, Led Zeppelin, Chromeo, Queens Against the Stone Age, Pink Floyd, Pearl Jam, The Red Hot Chili Peppers, The Mars Volta, Miles Davis, ACDC, Al Green, CAKE, Cream, Jaco Pastorius