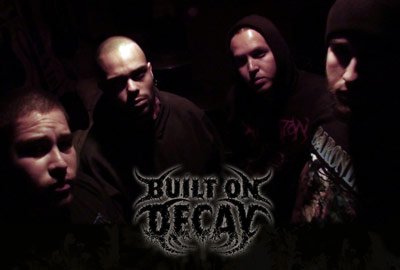 Built on Decay

"Ghost Called Hate"
"Walk the Future"

Musicians
Genre: Metal
Sound description: Heavy, Aggressive, Experimental, Death Metal.
RIYL: Gojira, Decapitated, Suffocation
Web site: http://www.myspace.com/builtondecay
Email: galexr87@gmail.com
History
A 4 piece progressive death metal band from Santa Barbara CA. 3 members of the band (Raff, Gene, Andy) relocated to SB from LA to jam with drummer Alex Chantes.
Upcoming shows
None scheduled
Formed
2008, Santa Barbara, CA
Influences
Life
Current status
Built on Decay is currently working on their first album "Burning Light" which is being recorded at Built on Decay Studios in SB.