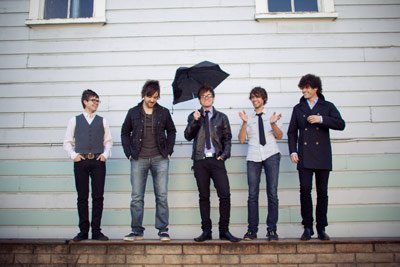 Callista

"Farther"

Musicians
Sound description: The band features a rock/pop structure, supported by strong vocal and guitar melodies, tastefully layered with lush keyboards and sequencing. Each member of the band brings different creative influences to the table, and it shows in the sound. All the interlocking rhythms and melodies give Callista its deep, unique sound. Every note seems to be carefully set in place, and each song has a character of its own.
RIYL: Copeland, Death Cab for Cutie, Lovedrug
Web site: http://www.myspace.com/callistamusic
Email: callistatheband@gmail.com
History
The band loosely formed in 2006 in Lompoc, CA. Within two years, they had landed on a piano-driven indie sound and recorded their first demos. In 2009, the band took on a new member and started reaching for a new sound with stronger rock structure and electronic grit. Shortly after committing to find a new direction, they were discovered by Grammy Award winning producer and manager Stephen Short (Augustana, Camera Can't Lie, Windsor Drive). After months of hard work, the band recorded it's first EP with Stephen at Sonic Ranch Studios, a state of the art residential studio in Tornillo, TX. Callista had found its new sound, and the music they worked so hard to create speaks for itself.
Upcoming shows
None scheduled
Formed
2006, Santa Maria, CA
Influences
Copeland, The Fray, Snow Patrol, MGMT
Current status
Callista is booking shows all over California and seeking to build a strong fan base on the Central Coast. In the years to come, the band hopes to be recording new music and touring internationally.