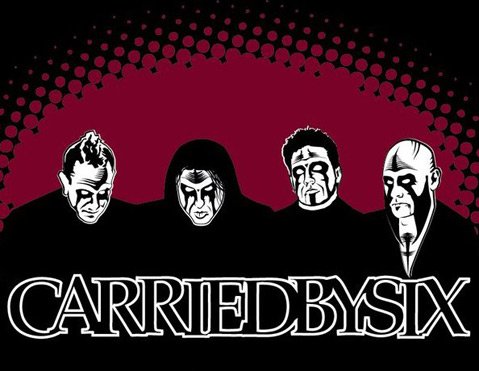 CarriedBySix

"Never Enough"
"One Track Mind"
"Porcelain"
"This Animosity"
"We Don't Stop"

Musicians
Genre: Metal
Sound description: CarriedBySix - Cemetary Mouth by bobesdrumskill
Web site: http://www.reverbnation.com/CarriedBySix
Email: CarriedBySix@hotmail.com
History
Carried By Six is a band that hails from the town of Santa Barbara, California.
The group was founded by singer Greg Carrillo and guitarist Brandon Kelley. Their goal was to create a solid band, incorporating traditional aspects of heavy music, and some not-so conventional ideas to make the sound unique yet still familiar to the audience.
The music of Carried By Six is mix of Metal and Dark-Electronic with a hint of a horror movie soundtrack to make up the bands sound. The music is accented by an energy filled live show, and the lyrics are dark, and 'foreboding'.
The bands first six songs were written and the search for a drummer began. After two months of try-outs and auditions, Todd Wilkinson was drafted to play for Carried By Six. The band didn't have to look far to finish off the original line up. Long time friends Adam Miller, and Matthew Garcia were brought in to complete the roster.
In February of 2001, Carried By Six performed their first live show in support of Electra recording artists Motograter. Followed soon after by Metal Cult's "Requiem". Over the next year, the band would play many venues, including "The world famous" Whisky a Go Go, the Gig in Hollywood and the Majestic Ventura Theatre.
In early 2002, Carried By Six released it's first recorded music. The demo received critical acclaim throughout the underground and even broke shore in Italy, Canda and England. "Misery America" the first single was in rotation on the Australian radio show "The Metal Chamber".
Later that year, the group would perform with artists such as Grolby (now Devildriver), Slick Idiot (ex KMFDM), and Penis Flytrap. In the May 2002 issue of Guitar Player Magazine, Carried By Six had their first article written in a nationally distributed publication.

Upcoming shows
None scheduled
Formed
2000, Santa Barbara, CA