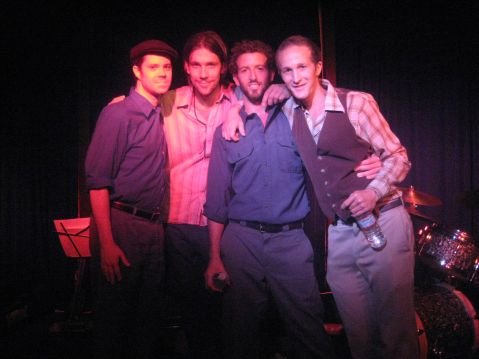 Colter Frazier Quartet

"Late Again"

Musicians
Genre: Jazz
Sound description: Tenor saxophonist Colter Frazier has been relatively isolated in Santa Barbara, California for many years, honing a unique playing style and compositional sound that shines like a beacon of hope in a dark world of jazz that too often lacks individuality.
His new quartet of tenor sax, viola, bass, and drums navigate seamlessly between tight, chamber-like compositions and more open-ended, yet highly conceptualized improvisations. There is no shredding, no fireworks, no jazz cliches. This is fresh, new acoustic music with a unique vision, and you will be glad you listened.

RIYL: Music
Web site: http://www.colterfrazier.com
Email: colter.frazier@gmail.com
History
The Colter Frazier Quartet was formed in the fall of 2007.
Upcoming shows
None scheduled
Formed
2007, Santa Barbara, CA
Influences
Louis Sclavis, Greg Osby, David Binney, Philip Glass
Current status
The Colter Frazier Quartet released its first album on pfMentum Records in September 2008.