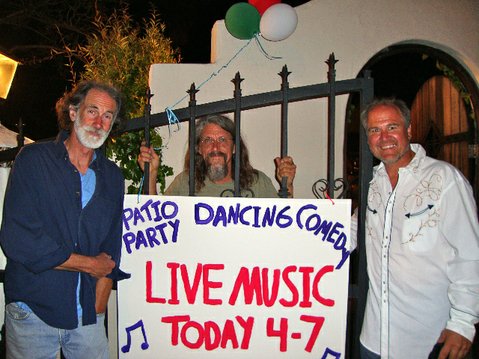 Cool and the Twang
Genre: Classic Rock
Web site: https://soundcloud.com/cool-and-the-twang
History
The band is a collaboration of three good friends who decided to join musical forces two years ago. The emphases are on having fun, and on playing good songs and instrumental tunes that folks will enjoy listening to. During a performance, the audience will hear "classic covers" by artists such as The Beatles, The Eagles, Sting, Bob Marley, Van Morrison, and Paul Simon. When the banjo makes an appearance (the Twang!), instrumental tunes that delve into Irish, Appalachian, Indian, and New Age music enter the mix. The band also plays a lot of swing and rock and roll music that people can dance to. For those who appreciate original music, about 20% of the music presented in each performance is by Cool and the Twang.

The band members are:

Greg Harrison – Guitar, Banjo, Harmonica, Lead Vocals
Greg handles all of the lead singing in the group, and writes the original songs and instrumentals.

Mike Marsh – Acoustic Bass
Mike is an incredible bass player who can play in any style.

Alan Struebing – Drums, Percussion, Harmony Vocals
One of the tastiest percussionists around, Alan also provides terrific harmony vocals.
Upcoming shows
None scheduled
Formed
Santa Barbara, CA