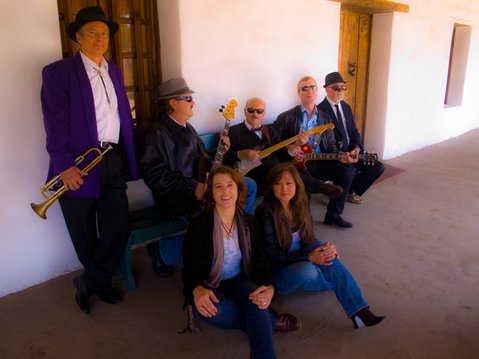 The Cover Story News

"Drama King"
"Find My Way"

Musicians
Genres: Alterniave Blues, Classic Rock, Covers, Funk, Indie, Jazz, Originals, Punk, R&B
Sound description: Original & classic rock with R&B grooves
Web site: http://www.reverbnation.com/thecoverstorysb
Email: TheCoverStory@yahoo.com
History
By the name of the band, you can already guess they do a selection of "cover songs" however, they have incorporated originals into their set-list and have debuted as "The Cover Story News" in March 2012 when they performed an all original show during the highly acclaimed, Circle of Fifths Poetry & Songwriter Series hosted by Lisa Dahni. This local Santa Barbara band, The Cover Story News, prefer to go genre-less, mixing it up with everything from classic/glamour rock, to indie/punk, alternative to blues, R&B to beatnik jazz and acoustic originals. They are a four-piece band with a few seasoned jazz and blues players who collaborate on a few songs.
For a brief history on how this band came to be, bassist, Steve Benchek has a long-standing LA band, ROX who have been playing together on-and-off for the last 25+ yrs. Until very recently, when his wife, Vangie lent her vocals to a couple of their songs, they found a growing demand for her to sing more songs with his hard-rock band. Rather than to change the focus of ROX, Steve decided in August 2011, to start The Cover Story because they both wanted to start performing locally in their hometown, Santa Barbara. Coincidentally, their daughter, Eleni who works at a local restaurant met Phillip Tirman and his wife, Vanessa who frequent the restaurant. Eleni felt intuitively that they should meet her parents. Upon their first meeting, they came to the realization that they shared a common bond, both Steve & Phillip played in their first bands during the mid-seventies with the same band name and carry a great appreciation of music from the era! Since Steve was thinking of putting a local band together, it all just seemed natural to approach Phillip with the idea. Phillip found this as an opportunity to return to playing and writing music. Steve later reconnected with Kim Schmitt, a drummer he worked with in the Heavy Metal Harmonica band, who just so happened to be looking for another musical project and vehicle to continue to develop her music. After their first rehearsal, it all just seemed destined to work.
After landing their first gig at SOhO Restaurant & Music Club a month later, they have transitioned almost overnight - booking shows faster than they ever imagined! Their intuition to form this band has been realized and evident in the cheers, smiles and applause they receive from new found fans of all ages!
About the guest-players:
In November (2011), saxophonist, Randy Graves attended their second show at The Creekside Inn and offered to record them on his portable pocket-recorder. Impressed with what he heard, he later approached Kim about developing horn charts to compliment a few of their songs. He later encouraged trombonist, Lee Oppert, and trumpet-player, Bruce McKaig, to attend rehearsals and collaborate with this, "tight little quartet" offering the band a horn section. Joe Purpura is the latest guitarist to join the mix, offering his Chicago Blues/Funk and the recent addition of Mark Huston, on tenor sax; all together, truly merges a whole new level and richness to The Cover Story's emerging sound.
Upcoming shows
None scheduled
Formed
2011, Santa Barbara, CA
Influences
Chicago Transit Authority, Led Zepplin, James Brown, Rolling Stones, David Bowie, Iggy Pop, Etta James, Peter Green, The Clash, The Pretenders, Smithereens, Wilson Pickett, Elvis Costello, Doobie Brothers, Morphine, Aretha Franklin, Stevie Ray Vaughn, Bad Company list is endless... we try to consider the various musical styles and influences of our members and draw our "cover" selections from pieces that highlight each musicians strengths. Our original music vary in genre as well: indie, southern rock, pop, punk, soul.
Current status
Working on original songs as well as continuing to expand our cover selections to perform for our busy upcoming show schedule. We look forward to seeing you at our shows! Contact us for booking at a venue near you!