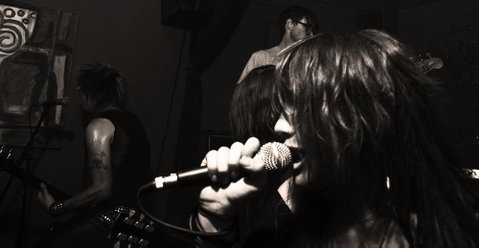 Crimson Scarlet
Musicians
Genres: Death rock, Gothpunk, Post-punk, Punk
RIYL: See above.
Web site: http://www.crimsonscarlet.bandcamp.com/
Email: desperatehours805@gmail.com
History
Crimson Scarlet formed as a one-off party gig band to play a house show with Waiting Around to Die. We recognized the extreme void of danceable deathrock and gothpunk in the local area. So, we formed for
the hell of it and played, it rocked, so thusly we continued. The line-up for the formative gig included the gorgeous Erin "Chavo" Chavez as first vocalist.
Upcoming shows
None scheduled
Formed
2011, Santa Barbara, CA
Influences
13th Chime, ADS, Rubella Ballet, Arctic Flowers, Moral Hex, Lost Tribe, Trisomie 21, SS Say,Siouxsie and the Banshees, Ghost Dance, Skeletal Family
Current status
Touring, gigging, writing songs. Finished recording for our first two single EPs, Sanctuary (on CSR records), and The Window. Preparing for September tour to the international punk festival, Distort Vancouver, in Vancouver BC.