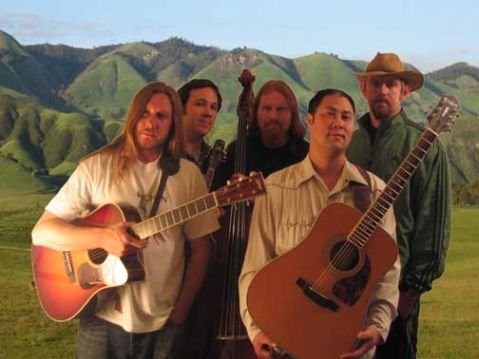 Cuesta Ridge

"Bloodline Ireland"

Musicians
Genres: Progressive Bluegrass, Rock, Twang
Sound description: Judging by Cuesta Ridge's influences, you may have guessed that their sound is tough to describe - and they like it that way. Cuesta Ridge is a uniquely fresh blend of bluegrass, rock, country, gypsy jazz, and folk with a pinch of funk. Catchy, acoustic rhythms meet guitar and mandolin pickin'. Energetic bass and tasteful drums supply the foundation, while harmonic vocals relay the message that these boys like to have a good time.
RIYL: The String Cheese Incident, Garcia/Grisman, Hot Buttered Rum
Web site: http://www.cuestaridge.net
Email: bweide@att.net
History
Cuesta Ridge is a band born in the sweet confines of the Santa Lucia Mountains, on California's Central Coast.
It all started with two guitarists, roommates at the time, enjoying beautiful afternoons sitting on the front porch, strummin' tunes. From there, the brew pub up the street became a place for the public to enjoy these unique and heart-felt musical stylings. Next, the pair added mandolin, an upright bass, and drums. At that time the group went by the name Cuesta Ridge Mountain Boys. The players' individual experience in the local music scene is broad. Three of Cuesta Ridge's bandmembers are from the band Stank Finatra (1999-2001). The boys have also played in a variety of other local bands, such as Resination, Hip Deep, Tripledub, Ouroboros, Fused, and Goza.
Upcoming shows
None scheduled
Formed
2003, San Luis Obispo, CA
Influences
Django Rheinhardt, David Grisman, Bill Monroe, Johnny Cash, Bob Marley, Janes Addiction, Motorhead
Current status
A standard Cuesta Ridge show includes a variety of flavor, and there is always something new for the die hard fans. Constantly writing new originals, this talented bunch also likes to challenge themselves with fresh covers at each gathering. The band's upbeat nature attracts movers and shakers, while their sophistication corrals musicologists and aficionados. Previous venues they've played include the Live Oak Music Festival, Morro Bay Harbor Festival, Downtown Brew (SLO), California Mid State Fair, SLO Concerts in the Plaza and Mother's Tavern, to name just a few. The band has a new, live CD available for purchase, and the band has recently taken up road-tripping with adventures to San Francisco and Monterey. Upcoming shows: August 14th: In-store at Boo Boo Records (S.L.O., CA) @ 5:30pm August 15th: Downtown SLO's Concerts in the Plaza (5-7pm) August 18th: The Cliffs (Shell Beach, CA) 5-9pm August 23rd: Stone Soup Music Festival (Grover Beach, CA) 10am