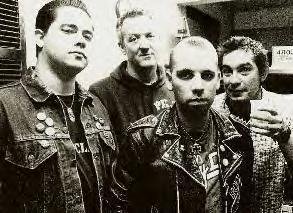 Damaged Goods
Musicians
Genre: Punk
Sound description: Old School OC Punk with a back beat that just won't quit and as close to a lost band from the Beach Blvd. (Hostage Records)
RIYL: Punk Rock with an old school sound.
Web site: http://www.myspace.com/damagedgoods
Email: damagedgoods805@aol.com
History
Yeah, we took that class. We are four guys from other bands, same interests in music and tired of the same sounding stuff being created everywhere. We have released a couple demos, few compilations, 7" record, and a full length album. We have played all over CA & Vegas with many different bands and we are not gonna be done for a while.
Upcoming shows
None scheduled
Formed
2001, Santa Barbara, CA
Influences
Punk Rock, Life & Times, Booze.
Current status
Working on new material. Re-grouping after a short hiatus. Repairing our studio after the Jesusita Fire. Shows TBA.