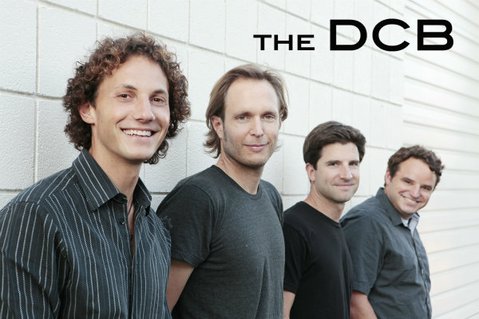 David Courtenay Band

"Love & Shame"

Musicians
Sound description: West Coast Rock with a Reggae Twist
RIYL: Rock, Reggae, and the bands of the '60s, '70s and '80s
Web site: http://www.DavidCourtenay.com/
Email: dcourt25@gmail.com
History
The DCB is a collective of four Californian musicians whose sound is definitively West Coast. They compose and perform roots rock reggae, with undertones of influences such as Bob Marley, Jack Johnson and Michael Franti woven into their music. Singer, guitarist and songwriter David Courtenay began his performance career at the age of 17, when he tested out of high school, secured a fake I.D. and started playing music venues in Santa Barbara. After graduating from UCSB with a degree in Theatre, he moved to Los Angeles and performed as a solo artist at nightclubs and lounges all over the city. He released his debut CD, "Eloquent Cool," in 2007, which the Independent hailed as "beautifully crafted contemporary pop that reveals layers of classic influences" and earned him the title of "a legend in the making" by Buzzine Magazine. To continue honing his musical chops, David moved to Chicago in 2008 and formed an original band named Modern Conversation, which released three EP's, filmed three music videos and toured the East coast. While in Chicago, David was asked to join one of the Midwest's biggest Beatle tribute bands and played the part of John Lennon at festivals all over the country. After four icy Chicago winters, David finally moved back to his hometown of Santa Barbara at the beginning of the year and teamed up with guitarist Jonathan Brownfield, bassist Joe Rizk and drummer Jamie Haggar to form the DCB. Recently, the band headlined the 4th of July concert at the sunken gardens of the Santa Barbara Courthouse. They also hosted and headlined "The Endless Summer Soiree," a benefit concert for the SB Leukemia and Lymphoma society, which was held at SOhO on September 6th.
Upcoming shows
None scheduled
Formed
2012, Santa Barbara, CA
Influences
Bob Marley, Jack Johson, Michael Franti, The Doors, Pink Floyd, The Beach Boys, U2, 311, the Beatles
Current status
The DCB is gearing up to perform at the Brewhouse on Thursday, September 27th and Cold Spring Tavern on Friday, October 12th.