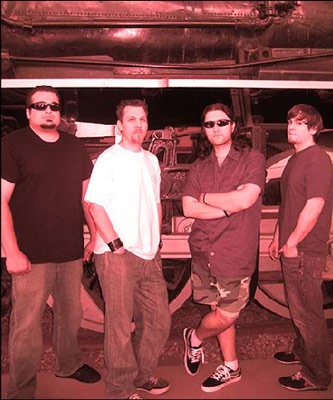 Derailed
Musicians
Genre: Hard Rock
Sound description: Derailed is band with influences such as Alice In Chains, Dream Theater, Genesis, Iron Maiden, Megadeth, Pink Floyd, Rush, Van Halen, and Yes just to name a few. They have an original and intense sound that will blow you away and leave you wanting more.
Web site: http://www.derailedmusic.com/
Email: deadfred55@hotmail.com
History
Derailed is a hard rock band that started in 2006. Derailed was formed by members from three different groups."Derailed is a musical entity consisting of four musicians who share a common vision to create a unique blend of heavy rock music that is enjoyable both for casual listeners and musicians as well. Instead of focusing merely on technical ability, Derailed is committed to writing songs that are both powerful and memorable, yet at the same time do not seem bland or cookie-cutter. By combining the various influences of the individual band members, Derailed pay homage to their heroes, but with an eye – and an ear – to the current scene, putting a contemporary spin on their sound. Bluesy guitar solos, gruff (yet melodic) vocals, and a pounding rhythm section highlight the chemistry of these four musicians who share one common goal: to take their music to the next level."
Upcoming shows
None scheduled
Formed
2006, Santa Barbara, CA
Influences
Alice In Chains, Dream Theater, Genesis, Iron Maiden, Megadeth, Pink Floyd, Rush, Van Halen, and Yes
Current status
Gigs/Recording "Fred" Bayat Is an experienced guitar hero playing in rock bands since 1992. The sound that cries from his axe can warm the hearts of his peers and many guitar legends. With an obvious blues background, the versatile style of Fred will keep you on your toes trying to distinguish the exact influence. Uniting forces with the band Derailed, Fred is ready to take his rare talent to the next level. Pete is a self-taught guitarist. Originally studying jazz and classical trumpet, he holds a BA in Music Industry Studies from Cal State University, Northridge. Picking up his uncle's acoustic guitar as a hobby, Pete learned the guitar by listening to Dave Matthews, Pink Floyd, and Eric Clapton. He moved on to the electric guitar after being exposed to John Petrucci, Tom Morello, and Joe Satriani, just to name a few. Growing up in a family of music lovers, Will was encouraged to study music at a young age. Starting out on percussion, Will quickly graduated to guitar by the age of 12. He took classical guitar lessons for five years, but in the meantime picked up bass. Playing in bands since he was in high school - and never looking back - Will has 2 independent releases under his belt (including a promo video). He has played in an Iron Maiden tribute band, and has performed on both sides of the Atlantic. Derailed is the next step in Will's never-ending musical evolution. Jason is a recent graduate from Musician's Institute in Los Angeles. Hailing originally from New Jersey, Jason is not only influenced by most of the iconic and modern drummers, he plays like them as well.