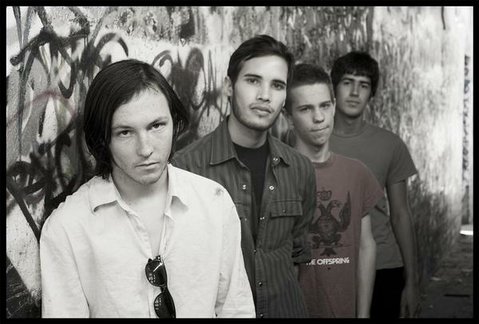 Dirty Words
Musicians
Genre: Alternative Rock
RIYL: Queens of the Stone Age, Foo Fighters, The Who, The Beatles, MC5
Web site: http://www.myspace.com/dirtywordsmusic
Email: singledoutk@yahoo.com
History
Formed originally by Kasey and Kenny during high school, soon thereafter recruiting Eric and Nigel. After a few practices we very quickly started working on a strong arsenal of songs and began a lot of legwork, promotion, shows, getting the word out there that we were Ventura's new rock band to help get Ventura's music scene back on its feet. Since then we've played most major venues in Ventura County, out through out Los Angeles, including The Whiskey, The Viper Room, The Hard Rock, and The Knitting Factory. We've also been featured on KROQ's Locals Only program multiple times.
Upcoming shows
None scheduled
Formed
2005, Ventura, CA
Influences
The Who, The Beatles, Incubus, Nirvana, Soundgarden, Green Day, Rage Against the Machine, Queens of the Stone Age
Current status
Writing new material, showcasing to a few labels, extending our fan base, booking gigs north of Ventura, breaking into the Santa Barbara scene!