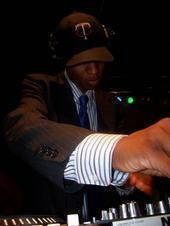 DJ

Matty Matt

"Tequila Hip Hop Remix"

Musicians
Genre: Electronic / DJ
Sound description: A Santa Barbara nightlife staple, Matty Matt Moore is notorious for getting a party started. But there's more to deejaying than good taste. Matt's hip-hop mash-ups, dance mixes, and turntable skills are arguably unrivaled and loud proof that spinning is an art form all its own. — The Indy
Web site: http://www.myspace.com/smartguys
History
Born in Brooklyn, NY, moved to Santa Barbara to record tracks and make beats. He's now producing and banging the hottest tracks in the U.S. and worldwide!
Upcoming shows
None scheduled
Formed
Santa Barbara, CA
Influences
OAKENFOLD, AM, JAZZY JEFF, JAM MASTER J, BAD BOY BILL, RECTANGLE, SCRATCH BASTID, Q-BERT, SINISTA, TIESTO, GRANDMASTER FLASH, TECHNICIANS, OP 'N' FRESH, WICKED, HEKTIK (KAYOS KREW), CHEF SANTO, RYAN KNIGHT, GAVIN ROY, TIMO, DAZZ, PATRICK B, MISTA CHOKK, CURLY, JUST BLAZE, DJ PREMIERE, HI-TEK