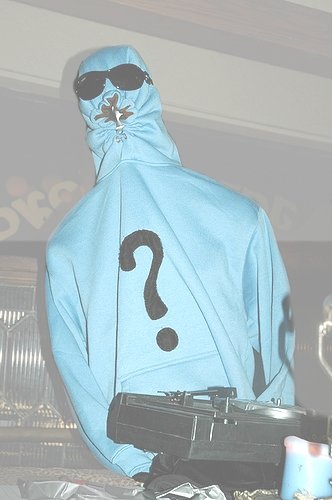 DJ

?

"Feelin' Like Citrus (feat. Lady C)"

Musicians
Genre: Hip-hop / Rap
Sound description: The mysterious side project of Coyotes and Bourbon mastermind Mike McHugh, this faceless music maker has managed to blend reggae roots, techno funk, hip-hop beats, and a variety of guest vocalists together for the enjoyable, disjointed Coyotes and Bourbon II: The Rise of DJ?.-The Indy
Web site: http://www.djquestionmark.com/
Email: info@djquestionmark.com
History
Donning a light blue hoodie, DJ ? has taken over the mind of producer Mike McHugh, forcing him to yield to the universal laws of rhythm and make music to manipulate motion in human beings. The extraterrestrial-inspired grooves draw from hip-hop, house, reggae, African and Latin beats.

Upcoming shows
None scheduled
Formed
Santa Barbara, CA