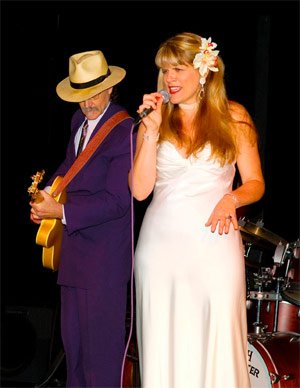 Donna Greene
&

The Roadhouse Daddies
Musicians
Sound description: It's a perfect combination of tasty old blues women songs, bluesy classics performed with ultimate cool, a selection of distinctive, horn-laden jazz riffs with woman who can really tell a story. Donna Greene has the range of Eva Cassidy, the grit of Etta James, and the sly phrasing of Billie Holiday.

RIYL: Billie Holiday, Candye Kane, Bonnie Raitt
Web site: http://www.greeneblues.com/
Email: donnagreene@greeneblues.com
History
Donna Greene is that rare singer who can tear open a song with intelligence, passion, and humor until she owns it completely. She brings her huge heart, voice, and style to her eclectic repertoire of feisty blues, smokey jazz, and down and dirty R&B.
She came out of nowhere, looking like she just stepped off a train in 1940, walked into a bar, and started singing the blues. Her amazing voice goes from a sultry whisper to a sizzling howl of pain. She has a vintage flair that immediately recalls the glamor of the 1940s and draws her audiences in with her sexy roadhouse style. She gets things rocking.
Lady Blue has been compared to a wide range of vocalists, ranging from Billie Holiday to Dinah Washington, Peggy Lee to Etta James, Eva Cassidy to Bonnie Raitt, but her style is her own and her voice is unlike anyone else. She takes classic songs you may have heard and shows you something about them that makes you realize that, until then, you hadn't really "heard" them.
Greene has been lauded in both the jazz and blues scenes for her sensuous personality and roadhouse energy that pulls the audience in and keeps them wanting more. Joining her on stage are the Roadhouse Daddies, led by Greg 'Snoots Noodlemyer' Loeb, whose bio is a mile long. He's traveled the world and played with some amazing and well-known musicians. Snoots and Lady Blue are joined by some of the top veterans in the music world.
Upcoming shows
None scheduled
Formed
2004, Santa Barbara, CA
Influences
BIllie Holiday, Etta James, Bonnie Raitt, Dinah Washington, Eva Cassidy, Little Esther Phillips.
Current status
After releasing their first CD, A Girl's Gotta Have a Little Pleasure, in 2008, Donna Greene & The Roadhouse Daddies have been receiving airplay all over the US and the world. They continue to play locally for events and private parties, and at various public venues. "Donna Greene's blues are dry martini blues. She sings with a lotta swagger, a dash of sauce, and a cool retro vibe. She'd have been right at home on stage at the Sands of the Rat Pack days or Ciro's on Sunset Boulevard circa 1948, but it's 60 years later and Donna's attitude and energy is totally 21st century. She gives ya masterful singing that's sensual, emotive, and fun." "Donna Greene brings just the right feeling to a tune, whether it's straight ahead blues like 'You Can Have My Husband' or a Billie Holiday-era standard like 'Comes Love.' 'A Girl's Gotta Have A Little Pleasure' is a winner! It's a superbly-produced treasure highlighting Donna's pristine singing with the style and punch of The Roadhouse Daddies!" (Nick Gerard, Host of "Nothin' But the Blues" on KKJZ 88.1 FM Los Angeles and jazzAndblues.org)