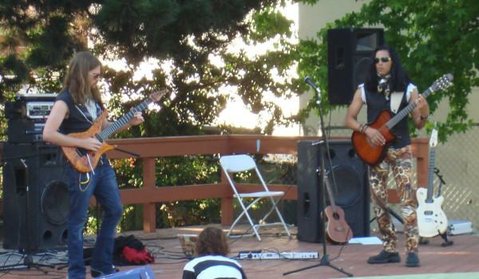 Dos Diablos
Musicians
Sound description: Randy Rhoads, Dimebag Darrell and Eddie Van Halen playing with Paco De Lucia, Andres Segovia, and Django Reinhardt.
RIYL: Flamenco, Classical, and Metal
Web site: http://www.myspace.com/dosdiablosmusica
Email: dosdiablosmusica@gmail.com
History
Dos Diablos is a combination of two musical realms. Marco Alejandro is a Latin American guitarist performing solo concerts and events. Jason Kaye is the lead guitarist for Untapped Fury and Van Stone is currently performing rock shows.
Upcoming shows
None scheduled
Formed
2008, Santa Barbara, CA
Influences
Beethoven, Mozart, Bach, Chopin, Prokofiev, Bartók, Rachmaninoff, Saint-Saûns, and Ozzy
Current status
Dos Diablos is currently touring the Pacific West Coast... traveling from San Diego CA to Vancouver B.C.