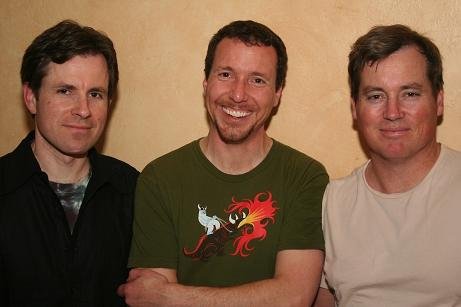 Eating Crayons
Musicians
Genre: Rock
Web site: http://www.eatingcrayonsband.com
Email: oglaw@silcom.com
History
A rock band is akin to a group of children simultaneously drawing a single picture. While one child may fail to draw inside the lines, and another may apply clashing colors, the two are at least adding to the whole. However, at times one of the children will sit in the corner and eat his crayons, thereby wholly failing to contribute to the picture that is being drawn. Barrett O'Gorman came up with the name "Eating Crayons" in late 1994 after an experience with a prior band member who was never quite on the same page as the rest of the band.
Eating Crayons is comprised of Barrett O'Gorman on vocals and guitar, Mark Weisgerber on drums, and Marc Bobro on bass.
What makes this alternative rock band unique is not only the diversity of the music they play, but the members comprising the band. Although each of the members has 25 years of musical experience, during the workday Barrett is an attorney, Mark is a title officer, and Marc is a professor of philosophy. Prior to the formation of Eating Crayons, the members played in other bands and performed extensively on Hollywood's Sunset Strip clubs and in Tucson, AZ.
The original incarnation of the band included Barrett and Mark. After having success playing in local Santa Barbara clubs, the band took a several year hiatus while Barrett began raising his children. With the addition of Marc, the band has added an intricate and expressive bass to make their original music project complete.
The band's musical style varies from the retro 60s song "Cross the Line," to the poppy "Cabby" to the Doors-esque "Silver Locket" to "Man from Idaho," which evokes comparison to Pearl Jam. The sound of Eating Crayons generates contagious enthusiasm wherever they perform.
The band has just released its self-titled CD, which is available online on through their website, eatingcrayonsband.com and links to iTunes, CD Baby and digstation.com. Also, check out some of their live performances on YouTube.

Upcoming shows
None scheduled
Formed
1997, Santa Barbara, CA
Current status
Presently playing around Santa Barbara and selling their self-titled CD online worldwide.