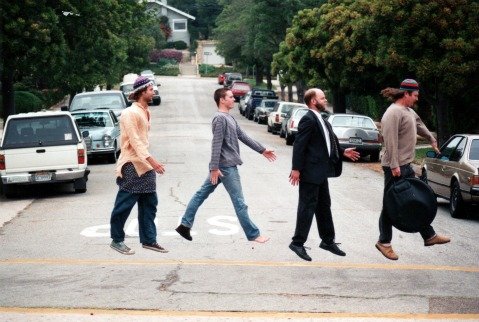 flapping, Flapping
Musicians
Genre: Ambi-pop
Sound description: Guitar rock, but not.
RIYL: Rock musics that sounds familiar, yet vaguely foreign.
Web site: http://www.householdink.com/flapping.htm
Email: info@householdink.com
History
Out of assorted musical alliances in the mid-'90s music scene in Santa Barbara, with a nutty name supplied by Erica Ruhl, flapping, Flapping, FLAPPING was born, being Tom Lackner, Bruce Winter, Rob Taylor and Joe Woodard. They released the album "TEX" on Household Ink Records in 1995, and then, after Glen Phillips joined the band, replacing Taylor, the album "Montgomery Street," in 1996. After long and winding work, the long-awaited third album, "seeyoutonight," is soon to be finished, now with Lackner and Woodard at the epicenter, joined by a rotational crop of musicians.
Upcoming shows
None scheduled
Formed
1995, Santa Barbara, CA
Influences
Beatles, XTC, and some American stuff, too.
Current status
Album # 3, "seeyoutonight," coming soon to a digital and analog portal near you.