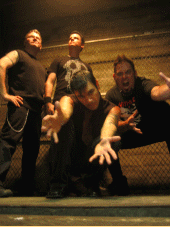 Floater 6

"U Need Me"

Musicians
Genre: Punk
Sound description: Sounding like a slightly less political Pennywise trying to recover from the worst breakup ever, Floater Six claims they want to bring the fun back to punk music. -The Indy
Web site: http://www.myspace.com/floatersix
Email: wowejeff@netscape.net
History
The L.A/Ventura-based punk band, Floater Six (F6), is blaring out the fun this summer following a successful launch of their new album Spoonfed featuring the fan favorite "U Need Me", with concert dates in Los Angeles, Ventura County, and Las Vegas. Touted as the "new live music sensation", F6's high-energy, in-sync chemistry, and laid-back attitude makes them fun to watch and stomp to in the welcoming mosh pit.
Highlights of the tour included Monday stints at Billy O's in Ventura, a live web concert with Frankie Doll, and a Universal City Walk Summer Concert featuring special guest, lead singer of the Circle Jerks, Keith Morris, who performed a special F6 rendition of "Wild in the Streets".
"We're excited to have the legendary Keith Morris perform with us at Universal. He's an icon of the LA punk music scene and we are not worthy! It's his way of giving us his punk-rock-god blessing as a band. We must be worthy!" said F6 drummer, Six.
Floater Six, the latest addition to the pop punk scene, brings something new to the community of punk music: FUN. The band combines edgy, hard-driven arrangements with catchy mainstream vocal melodies and lyrics giving them a very distinct sound. Established in early 2003, Floater Six has set its goals on creating a fun fusion of rock, pop, and punk, that appeals to a large audience while still maintaining its own unique personality.
They've played Universal City Walk, Viper Room, Key Club, El Rey, Cat Club L.A., The Goodhurt, Dragonfly, Paladino's, The Double Down Vegas, Ground Zero @ USC, San Souci, The Red Cove, Billy O's, OTP Glendale , The Joint, The Scene, Taco Beach, Velvet Jones, Mr. T's Bowl, Webers, Club Lingerie, The Gig, and Whisky A Go Go, among other spots.
The members are:
Brian "Glitch" Miller, singer, rhythm guitar:
From childhood, Brian "Glitch" Miller, loved the arts and writing. His influences growing up were Bad Religion, Pennywise, Green Day and The Offspring, including his favorite cd of all time, the Phantom of the Opera soundtrack.
Six, drums:
Six has been drumming since he was 9. He is a 4th generation drummer that was taught the basics by his father, who has been playing drums for over 60 years. In the not so distant past, Six played in a bagpipe band as a drummer. The band competed in Scotland and played in the World Championships of Bagpipe Bands. They got their butts kicked however by damn Scottish kids that were 9 and 10 years old.

Michael D. Henry, bass:
Michael's family moved a lot when he was growing up so he had a hard time making and keeping friends. He spent much of his childhood teaching himself how to play guitar, bass, drums, and keyboards. Michael also spent years developing his singing voice and writing songs. As well as playing bass for Floater Six, Michael fronts the local band Automatic Hotel and gives music lessons "School of Rock" style.
Brian "B Mac" McCallion, lead guitar:
started taking piano lessons at nine years old and although playing Van Halen's Jump on the piano always gathered a crowd, he quickly discovered that power chords did not sound quite the same on the piano and chicks dug guys who played guitar. He traded in his piano for a Stratocaster and never looked back. Since then, he's been a regular in the LA music scene opening for such celebrities as CC Deville from Poison, Jimmy Fallon from Saturday Night Live, James Marsters from Buffy the Vampire Slayer, Gilby Clarke from Guns N' Roses and the band Sponge. He currently plays lead guitar for both Automatic Hotel and Floater Six.
Upcoming shows
None scheduled
Formed
2003, Ventura, CA