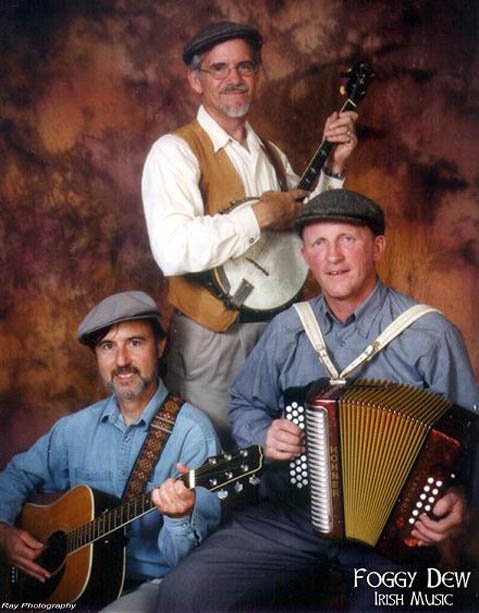 Foggy Dew

"Johnsons Motor Car"
"Whiskey In The Jar"

Musicians
Genre: Irish
Sound description: Bodhrán, tin whistle, banjo, and mandolin are just a few of the instruments the members of Foggy Dew use to create their unique blend of folk, Celtic, and Americana music. Their old-timey version of the Irish folk song "I'll Tell Me Ma" would fit well on the soundtrack to O Brother, Where Art Thou?, while the haunting "Butterfly" recalls the sounds of ancient Ireland. -The Indy
Web site: http://www.foggydewband.net
Email: foggydew@cox.net
History
The Irish traditions of song and storytelling of the Clancy Brothers and Tommy Makem are alive in Santa Barbara with the music of the Foggy Dew Irish Band. Led by Irishman Willie Quinn on vocals, the button accordion, harmonica and penny whistle, the band will delight you with the story of the Irish people, singing of love, war, humor, tears, and immigration. Willie knows all the old classics. Along with Gary Jensen's biting banjo, lyrical mandolin and rhythmic bodhran, and Randy Parada's driving guitar and harmonic backup vocals, the band will weave an Irish mood that will whisk you back to
the old sod. Foggy Dew, on occasion, becomes a family band that includes kids singing and Irish step dancing.
Over the years, Foggy Dew has played for such celebrities as Michael Douglas, Ted Turner, Jane Fonda, Andy Granatelli, Jane Goodall, Julia Child, Lois Capps, and Def Leppard drummer Richard Allen.
"You can find the band on the second and fourth Saturday evenings at the State & A Pub and Grill at 1201 State St in Santa Barbara from 7:00 until 8:30. Request your favorite Irish song."
Willie Quinn is originally from County Kildare in Ireland. He not only sings the lead vocals in his Gaelic style, but he is melodious on the button accordion, harmonica, and a variety of whistles. He works as a stone mason during the day, carving his art with a chisel. Willie has an unending supply of stories - just ask him!
Gary Jensen picks his banjo, strums his octave mandolin, and beats his bodhran, while singing harmony backup for Willie. He can unfortunately be heard giving the patter of comments about the songs and the group during gigs. He makes his living as an architect. Gary will gladly tell you about his Viking ancestry.
Randy Parada is the steady foundation beat of the band. He plays guitar and is the sound engineer, or sound wizard, for the group. He also harmonizes on Willie's songs. He works for the Carpinteria School District, and he plays with the Earth Rise band as well. Randy has an interesting background as a California rock 'n' roll guitarist, as well as a magician.
Phil Pritchard adds a big bottom end with his ancient standup bass. A carpenter by trade Phil is one of the original members of the famous Floyd County Boys.
Upcoming shows
None scheduled
Formed
1995, Santa Barbara, CA
Influences
The Clancy Brothers and Tommy Makem