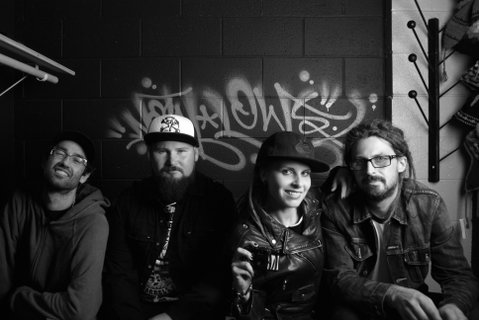 Fruit n Beef
Genre: Alternative Rock
Web site: http://www.fruitnbeef.com/
History
Fruit-n-Beef is a raw, retro, aggressive, chill, jammy, melancholic, bluesy, grungy, rock alternative band with a perfect balance between the ripe, "juicy" fruit of the female vocalist and the rocking, "beefy" heaviness of the band. 
Band founders Mario, Heni and Rob have performed together as musicians for over a decade. They began performing as a group in a garage in a small town, in Slovakia, European Union in 2000. After 5 years of performance and touring they hungered for a better life and relocated to the United Kingdom. They relocated again to Austin, Texas after playing the Heart of Texas festival during South by Southwest in 2007. The band split for a while, but slowly recommitted to their fundamentals and to advancing their songwriting craft.
Revived in 2009 as a metal project called Bionicore, they scored a winning spot during a local battle of the bands, confirming their potential. Texas would be big enough for such monumental musicianship, were it not for the ghost of Gibby Haynes' dang-a-long-ling-long. So, Heni, Mario, and Rob decided to move to California. There they met Zac, who was then playing in different jam bands in Los Angeles. The trio and drummer began to talk, went to a rehearsal studio and jammed up a song, and left happy with the results. The trio-turned-quartet then established regular practices and started to work on songs. After 3 months the band was ready to play gigs of all-original material and recorded their first set of songs in the studio.
Fruit-n-Beef went to Playback studio in Santa Barbara and laid down four tracks, releasing their first FM radio smash-hit, "In My Head," in March 2013. They are currently performing live in small venues in Santa Barbara and Los Angeles area. The band released their next song "Hollow" on May 25th 2013 as a free download along with a music video and are getting ready to wrap it up into a 4 song EP very soon!
Upcoming shows
None scheduled
Formed
Santa Barbara, CA