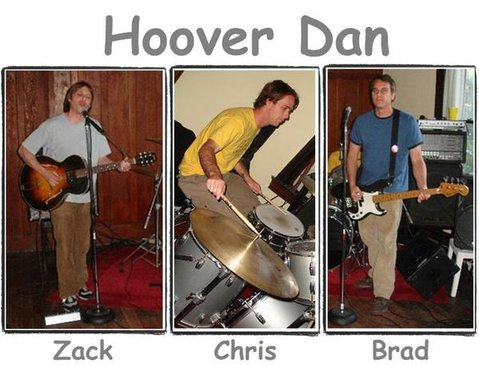 Hoover Dan

"Where's My Gun"

Musicians
Genre: Alt / Indie rock
Sound description: This alterna-rock three-piece group brings to mind Silversun Pickups and something a bit grungier. Their catchy brand of pop rock is captured best on tunes like "The Kicks." -The Indy
Web site: http://myspace.com/hooverdan
History
Hoover Dan formed at the end of 2005. Zack, burnt on waiting tables, Chris, tired of being at SBCC for six years and still living off his mom, Brad, sick of being an engineer and still having a roommate. The three met on West Valerio and started jamming:
Fast forward one year. Several songs were written and pieced together by the three while Zack continued to scribble down heartfelt words from the inside of his parked pickup truck, which he sometimes called home. Nights of jamming ensued, which inevitably led to a few more alt/indie pop rock tunes that define the HD sound.

In Spring 2007, with a small but strong fan base, Hoover Dan came out of the back room at Brad's house and started playing out to an accepting if not excited crowd.
At the present time Hoover Dan has slowed up on the writing and is focusing all their energy on recording songs from the past two years. At the Garage Majal studio in downtown Santa Barbara, Craig Costigan is engineering and will soon be mixing what will be Hoover Dan's first CD.
Upcoming shows
None scheduled
Formed
2005, Santa Barbara, CA
Influences
Gomez, The Police, Silversun Pickups, The Mother Hips, Modest Mouse, Foo Fighters, The Beatles, Juliana Hatfiled, Thelonius Monster