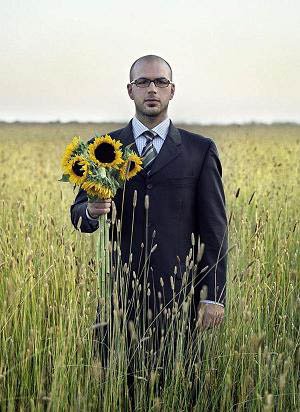 Intuition

"Bye Bye Baby"

Musicians
Genre: Hip-hop / Rap
Sound description: Despite hip-hop's massive popularity among most everyone younger than 40, rap's had a hard time gaining a stable foothold in Santa Barbara. Sure, there are some underground lyricists and deejays-some of whom even hit the stage regularly in L.A.-but the turnouts at even big-name rap shows in S.B. are hit and miss.
So it was with open arms that we welcomed Intuition's March 2007 release, Stories About Nothing. A rapper originally hailing from North Pole, Alaska, Intuition came to Santa Barbara to do the Brooks photography thing, but stayed to pursue hip-hop. Teamed up with his deejay, murjONE (a Santa Barbara High grad), and beat-maker extraordinaire Equalibrum (who recently made YouTube's front page with a bit called "Time Management"), Intuition's solid, professional-grade debut is full of lyrical wit, honest storytelling, and promising flows. Other reviewers agree: OkayPlayer.com claimed it's "the start of something good," while RapReviews.com said Intuition has "all the skills needed to be the next underground rebel."
A photo lab tech by day, Intuition (real name: Lee Shaner) and his crew are regulars on the L.A. scene, rapping at such famed haunts as the Knitting Factory and Airliner. They've hit up many a Santa Barbara club, too-including an opening slot for Method Man at UCSB-but the support is unsteady, a fact Intuition attributes to the small population and the wide diversity of the region's rap styles. So what's his style?
"It's just heady music," said Intuition, whose debut has been described as alternative/indie rap by others. "We like to call it thought-provoking hip-hop."
In between shows, the trio is working on material for a sophomore effort, to be dropped sometime in 2009. -Matt Kettmann
Web site: http://www.myspace.com/intuition
Email: intuition.is.a.rapper@gmail.com
History
Intuition sees the world differently. He extracts humor from the mundane, locates heartache in humor, finds comfort in that heartache, and develops stress out of that same comfort. Where most would see a straight line, he tends to see a circle.
Intuition has garnered quite a buzz in the Los Angeles underground hip hop scene, and has been praised by fans and peers for crafting extraordinary lyrics and honing an energetic and precise stage show in conjunction with his trusty DJ, murjONE. His recently released album, Stories About Nothing, is a highly anticipated and widely lauded venture that is entirely produced by the phenomenal Equalibrum and is noteworthy both for the beauty of its sound and the intricacy and suggestiveness of its lyrics.
Intuition was raised in North Pole, Alaska but currently resides in Southern California; throughout his travels his love for rap music has flourished and intensified. His list of influences ranges from A Tribe Called Quest all the way to Wu Tang Clan, and in Equalibrum he found a creative partner with a similar breadth of musical vision. The heavily layered, sample-based beats found on Stories About Nothing serve as a mellifluous accompaniment to Intuition's engaging and involved narratives. The interplay is so dynamic and successful that Intuition's vocals often resemble another sample attentively placed over the harmonies by Equalibrum, while the music's groove pushes the intriguing storytelling forward.
Intuition and the backbone of his stage show, murjONE, have shared the stage with acts like Method Man, Brother Ali, Rhymefest, Blackalicious, Sage Francis, Living Legends, Little Brother, Swollen Members, Binary Star, Busdriver, Pigeon John, Zion-I, LA Symphony, Paul Barman, and Sixtoo, and many others. Intuition and murjONE's energetic and well planned sets contrast sharply with the unintelligible, rowdy, hypemen-centered performances that have come to characterize the genre's live expression; this devotion to fine-tuning their craft and projecting a sense of professionalism ensures that fans past, present, and future will continue to follow and support the efforts of these young musicians with zeal.
Intuition is a rapper. You should be his listener.
Upcoming shows
None scheduled
Formed
Santa Barbara, CA
Influences
A Tribe Called Quest, Wu Tang Clan, Big Daddy Kane, Camp Lo, De La Soul, DJ Shadow, Portishead, EPMD, Gangstarr