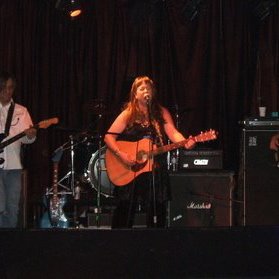 Jena Douglas Band

"Hello, Hello"
"Outloud"

Musicians
Sound description: Rock, blues, and country
Web site: http://www.jenadouglas.com/
Email: jena@jenadouglas.com
History
Jena has been writing songs for over 25 years. She has an Associate of Art Degree in Music from Santa Barbara City College and a Bachelor of Art Degree in Music from University of California Santa Barbara. She is a
single parent of a very musically talented teenage boy. Her last CD, The Ballad of Calamity, has a gotten some great reviews from all over the world.
"Americana… at its finest." (Nicky, Fireworks Magazine)
Formally known as "Jena And The Ballad Of Calamity" to promote her last CD, she dressed the part of "Calamity" but now, sadly, "Calamity" has died and Jena is preparing to record a new CD and has just completed a book on songwriting called A Singer/Songwriter's Guide To Songwriting.
She is currently touring with variations of her rock band and with lots of new songs she is getting ready to record. The songs this time are more on the rock edge.
Upcoming shows
None scheduled
Formed
2006, Santa Barbara, CA
Influences
The Beatles, Bob Dylan, The Who, Joni Mitchell, The Rolling Stones, Linda Ronstadt, Janis Joplin, and many more!
Current status
They are a favorite at The Creekside Inn and are currently looking for more rock venues to play.