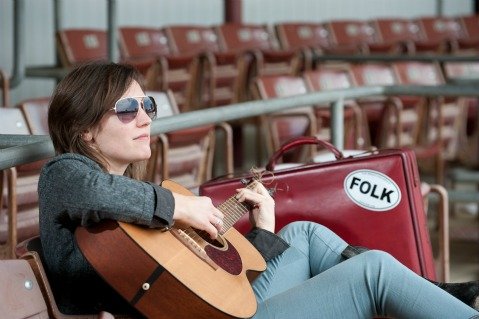 Kat Devlin and the White Whale

"Dear Emmi"

Musicians
Genre: Country-Hipster
Sound description: Feels like the Weepies. Folk like Mumford and Sons. Voice like a Wailin' Jenny.
RIYL: Pretty girls. Long-haired guys. Oak trees. Feelings.
Web site: http://www.katdevlin.com/
Email: kat@katdevlin.com
History
Santa Barbara's sonorous alt-folk rocker Kat Devlin splashed into the California music scene four years ago, after moving from New York. Kat packs a full schedule of gigs, solo and with a band, performing as Kat Devlin and the White Whale. She's played clubs (SOhO, House of Blues); she's rocked festivals (New Noise, Pacific Pride); and she's toured. August 2012 sent Kat singing as far away as Minnesota, and up and down California during the CaliCoast Kat Tour.
Kat's on-stage time is matched by a busy studio schedule. Late 2011 welcomed the release of "REM Cycle", from Kat Devlin and the White Whale. The 6-song extended EP was recorded up at Erickson Sound Labs in Buellton, Calif., and gives some indie-pop legs to Kat's folk-country sound in tunes like the twee-beated radio fave "Dear Emmi," and the sweet and sultry "REM Cycle #3." On the record, Kat is joined by Bear Erickson on bass, Nate Keezer on drums, Andrew Kalaidjian on keys and
voice, and Betsy Wise on cello.
"REM Cycle" follows the 2010 release of Kat's first full-length album, "The Voyage Out," which also features Erickson and Keezer.
Throughout 2012, Kat is also releasing "Twelve Squares," a collection of twelve songs (one released every month) that will be mostly acoustic and a little raw, for fans that hold a soft spot for Kat's singer-songwriter roots.
Kat has also released two official music videos, available at www.YouTube.com/KatDevlinMusic
Upcoming shows
None scheduled
Formed
2011, Santa Barbara, CA
Influences
Classic one-namers like Dolly, Ani, Dylan and Joni, and crooning indies like Belle and Sebastian and Neko Case
Current status
2012 will see the completion of the "Twelve Squares" record and the start of a follow-up studio sequel to "REM Cycle," once again with the band. And, more music videos await! For live performance information, visit www.katdevlin.com/shows.