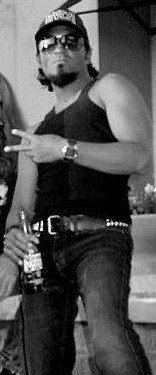 Kimoya
Musicians
Genres: Alternative, Rock
Sound description: Edgy alternative rock
RIYL: To go to the beach and party all night long...
Web site: http://www.kimoya.com/
Email: jmoya18@yahoo.com
History
Kimoya started early 2010 composed of musicians in the bay area. "it wasn't easy to find cool guys you gel with right away…" Kimo Moya. Since January Kimoya has been playing around the Bay area in such bars as Winters, Cheers Bar and Grant and Green in North Beach.
Kimoya is one of the most humblest and pure cover bands out there. Proving to be a crowd favorite.
Upcoming shows
None scheduled
Formed
2010, Santa Barbara, CA
Influences
The Black Crowes, Stone Temple Pilots, Jimi Hendrix, Sublime
Current status
Kimoy Moya just recently moved to Santa Barbara for work and has fallen in love with the mountains, the city and the ocean. Keeping in touch with his band in the bay area, Kimoya still manages to stay together as a band and play local shows from SF to Santa Barbara.