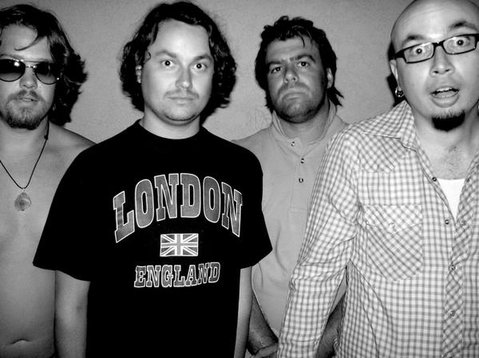 Kinothek

"Believe You Me"

Musicians
Genre: Alt / Indie rock
Sound description: Corporate Nightmare's golden children of the Central Coast alt-rock scene sounds like the love child of Ben Folds and Eddie Vedder; piano-driven, guitar-fueled, and lyrically charged. -The Indy
Web site: http://myspace.com/kinothek
Email: mike@corporatenightmare.com
History
Kinothek was formed in the fall of 2006 by Graham Palmer who had been floating from project to
project after the dismantling of his former band, Brandhagen. Palmer's first phone call was to
drummer and long-time friend Kevin Hamel, who was on board with the project from day one. The two began crafting Palmer's new song ideas, preparing to both record them and play them live.
After a month or two of rehearsals, Palmer and Hamel were ready to take the next step. With this entirely new arsenal of songs (and a few 18-packs of Tecate), Kinothek teamed up with Corporate Nightmare Records co-proprietor and musical producer Zach Madden with the intentions of recording a full-length record. Madden had just finished recording and producing the first two albums for CNR, his very own Don't Come Back Too Small, as well as Skin & Light by The White Fires of Venus, and was eager to dive into another project.
After completion of the first two records Madden began a six month studio remodel, so the
recording operation for Kinothek was moved to Palmer's house in Buellton, where the songs were
created. Most of the record was structured and demoed during these six months, and more players
were added to make the live show a possibility. Madden's studio remodel was finished in March
2007, at which point the Kinothek operation was moved back down to Santa Barbara. Palmer and
Madden recorded the whole record during the summer of 2007, with the help of Rob Taylor (guitar)
and Bruce Winter (bass/production). The record, entitled The Long, All Along, is now complete, and Palmer is now ready to hit the road with his brand new lineup consisting of Hamel on drums, James Longoria on guitar, and John Tevis on bass. Palmer's songwriting blends his personal experience, social politics, and the environment with a soaring, anthemic pop/rock musicality that's
inspirational, but not preachy.
Upcoming shows
None scheduled
Formed
2006, Buellton, CA
Influences
Ben Folds, Pearl Jam