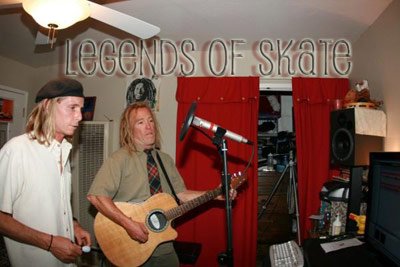 Legends of Skate
Musicians
Genre: Garage folk revival
Sound description: Woody Guthrie filtered through an acid haze in a virtual jazz/beat poetry club actually housed in a circa 1967 garage in the mid-west near a protected swamp destined for development.
RIYL: Real music from the heart not colored by money.
Web site: http://www.myspace.com/2legendsofskate
Email: 2LegendsofSkate@gmail.com
History
In 2005 and I was skateboarding weekly with some friends and it turns out that in the next couple of years one of them would become a musical foil and ally. In 2008 Mike Kresky (guitars) and I started doing casual jams in my living room that turned into weekly recording sessions. These sessions were a great outlet for my first true love in music: vocals and lyrics. With Mike's Americana style of guitar playing I could experiment with improvising lyrics and vocals in many different flavors and styles. This has developed into a great outlet for exorcising my own personal demons as well as venting my frustrations on what man is doing to this world. We would record everything and then edit out the paraphrased 'songs' to create standards and a set list to then play the songs for others with the intention of healing, transforming, and informing through words and music.
Upcoming shows
None scheduled
Formed
2008, Summerland, CA
Influences
Folk, rock, jazz, beat poetry
Current status
Doing a lot of recording and video taping of live studio performances while getting ready to do some live shows.