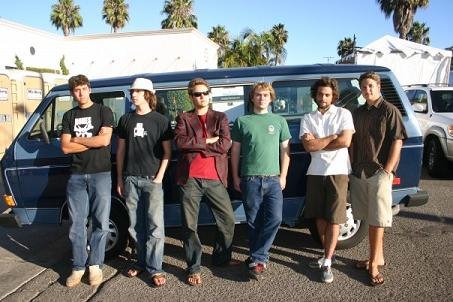 Lonesome Dub

"On Foot"

Musicians
Genres: Reggae / Carribean, Ska
RIYL: Jazzy reggae and ska
Web site: http://www.myspace.com/lonesomedubmusic
Email: tableecker@gmail.com
History
Raised in Carpinteria, California, brothers Taylor (guitar, vocals) and Jordan Bleecker (drums) grew up playing music together. At Westmont College, Taylor met Adam Reiber (bass) and Jon Wilcox (trumpet). Upon discovering their similar tastes in music and food, they began to jam - and the result was epic. JB Vasquez (saxophones), also from Santa Barbara, soon joined the scene and brought his years of experience playing jazz saxophone to the mix.
Influenced by reggae artists such as the legendary Bob Marley, Horace Andy, Groundation, Sublime, the UpBeat, and Israel Vibration, Lonesome Dub strive to create music that honors the roots of reggae while including elements of jazz, blues, and rock. After playing together for just under a year, the band began to look for a lead guitarist. Geoff Jensen, also from Carpinteria and Westmont College, filled this role perfectly, bringing stylish blues licks and tasty reggae fills. The newest member, Eben Drost, brings his jazz influenced keyboard playing to round off the rest of the band. They will continue to play local gigs as long as people will dance and strive to use their music to have a good time.

Upcoming shows
None scheduled
Formed
2006, Carpinteria, CA
Influences
Bob Marley, Groundation, Sublime, Horace Andy