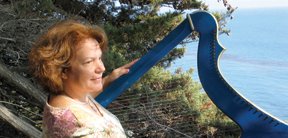 Lorin Grean

"Heaven Sent"

Musicians
Genre: Folk / Singer-songwriter
Sound description: "Lorin is a Santa Barbara-based Celtic harpist with the voice of an angel and the musical heart of a gypsy. She's a songwriter with an earthy, mystic vision and enough soulful musicality to carry it off."
—Santa Barbara Independent
Web site: http://www.loringrean.com
Email: lgrean@verizon.net
History
Professional musician as singer since the age of 7. Professional musician with the Celtic harp since 1991.
Upcoming shows
None scheduled
Formed
1991, Santa Barbara, CA
Current status
Acoustic and electric Celtic harpist, singer/songwriter, combining contemporary acoustic folk and world music elements into original arrangements. Numerous recordings with international airplay. Available in local area for solo harp background music (weddings, memorials, art openings, etc.)