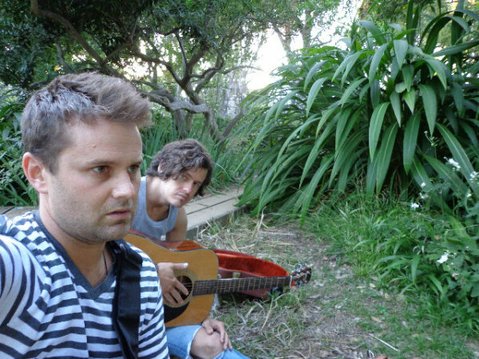 Matt Clark's Mind

"Give a Little Love"
"Somewhere Down The Road"
"When You Lose Someone"

Musicians
Sound description: Acoustic rock
"Seriously Good Music" New Times
"Fantastic!" Fox News
Web site: http://www.mattclarksmind.com/
Email: mattclarkband@gmail.com
History
Matt Clark was born just outside Santa Barbara, California where he began singing and playing guitar as a teen. His ne-of-a-kind style reveals the early influence of artists such as U2, Bob Marley, Neil Young and the Police. His latest EP has a Ray Lamontagne meets Jason Mraz sound but more of a modern rock edge is surfacing in new material echoing Everclear, and Angels and Airwaves. Matt recorded his latest EP in Denver, CO where he has enjoyed many years of making a living with his music. In the studio he teamed up with David McGuiness (long-time engineer for Eric Bazilian and Rob Hyman, author of Time After Time), and Emmy winning producer Lance Bendiksen, who has produced projects and live shows for Sony, Arista, and RCA, including work with The Fray. Matt Clark and his signature pop-culture style have now set their sights on a larger fan base in sunny CA. Recently playing throughout the western U.S and his stomping grounds of Santa Barbara and Ventura Counties at venues like Soho and Zoey's Cafe, Matt is drawing the attention of radio and recording executives with his upcoming release, Somewhere Down the Road. To Matt's delight, the songs are already gaining serious industry and fan interest through early test releases. Matt and his fans are excited about his future, as he soon will take his powerful show and voice on the road, bringing singles to
the airwaves in key markets. Playing gigs week after week, and selling thousands of CDs to everyone from loyal fans to strangers on the street, Matt has persisted in honing his craft and sharing his musical talent with others. It's clear that Matt Clark is no ordinary recording artist. With his expressive, poignant lyrics, he reveals a heart that is bigger than most. He is channeling his passion to help others by partnering with international nonprofit organizations like Kiva.org, which gives small businesses a head start in the developing world.
Upcoming shows
None scheduled
Formed
2012, Santa Barbara, CA
Influences
U2, Bob Marley, Neil Young and the Police
Current status
Duo, sometimes trio. Playing Sept. 14 at Carr Winery; Sept. 28 at Figueroa Mtn. Brewery