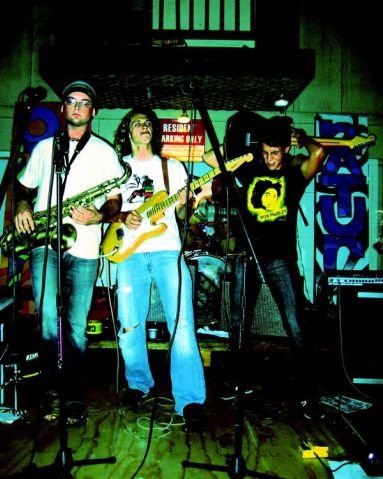 Other Nature

"Decked"
"The Solution"

Musicians
Sound description: A fusion of The Doors with Yann Tiersen
RIYL: The Doors, Red Hot Chili Peppers
Web site: http://www.myspace.com/othernaturemusic
Email: afunk@umail.ucsb.edu
History
History? We make it…
Other Nature emerged in 2006 when lead singer/guitarist Iggy Sharp convinced his face-melting guitarist friend Andrew Funk and his groove-tastic sax/keyboard player Charley to join the band. With the addition of Ryan Silver on drums and Roscoe on bass, Other Nature was complete and ready to heal the world's aching ears.
Upcoming shows
None scheduled
Formed
2006, Isla Vista, CA
Influences
The Beatles, Led Zeppelin, John Renbourn, Red Hot Chili Peppers, Yan Tiersen, Muse, Jimi Hendrix
Current status
Making history... All the members of the band are singer songwriters. So at the moment we are singing and writing songs. When we complete a set of songs we play them for our Isla Vista brothers and sisters. We are in the process of compiling a set of songs for the perfect album.