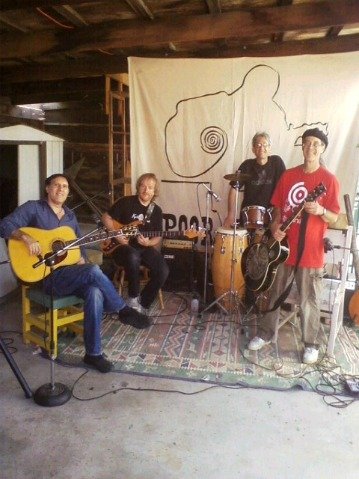 Paull E. Rubin

"LuvLyt"
"Not A Drop"
"Proof"
"Smile, Please!"
"Sweet Torture"
"The Greatest Love Of All Time"

Musicians
Genre: Classic Rock
Sound description: Dead + ELP, or Allmans + Yes
RIYL: Rock, jam bands, slide guitar
Web site: http://www.rubinhood.com/
Email: paullerubin@yahoo.com
History
Paull E. Rubin, musician, engineer, producer was at the helm of 7 South Recording for it's last 5 years at it's Funkzone location. He tours the western U.S.A. solo & with bandmates forming "Pelikanesis" & "Bear Bros." Paull has released eigh CDs, all currently available through cdbaby.com. The music is heavy on slide guitar, (Paull's specialty!), classic rock orchestration and features Grammy Award winning guitarist Marc Mann (ELO, Boingo, George Harrison), drummer David Criden, and bassist Benj Clarke (Shakti Tribe).
Paull's "RubinHood" Mobile Recording service has recently produced CDs from promising local bands
such as Sprout, Whiskey Piss, Arturo Tello & a client roster of over 40 artists. Paull has toured as Hani Naser's guitarist, and has played with luminaries like David Lindley & Bonnie Bramlett, among many others.
Upcoming shows
None scheduled
Formed
1995, Santa Barbara, CA
Influences
Allman Bros. Grateful Dead, ELP, Beatles
Current status
Paull's "RubinHood" Mobile Recording van will take him to Idaho to New Mexico, turning musicians homes into full recording facilities. Paull will as well perform several club gigs along the way, and will feature many songs from his new "Proof" CD.