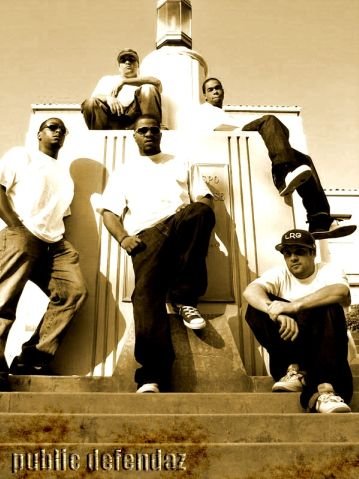 Public Defendaz

"I'm On"

Musicians
Genre: Hip-hop / Rap
Sound description: A group with a West-Coast Dungeon Family sound. Something like Living Legends crossed with Boot Camp Click, combining all styles of hip-hop in one group.
RIYL: Living Legends, Hieroglyphics, Lupe Fiasco, San Quinn
Web site: http://www.facebook.com/publicdefendaz
Email: publicdefendaz@gmail.com
History
The group known as Public Defendaz is a collection of multi-talented individuals who represent their personal views through the lifestyle and music of hip-hop. It started in 2006, when five individuals who were already involved in music decided to form the group. Their purpose is to bring audiences a new quality of music that directly reflects the word of the people. By combining the driving forces of lyrical wordplay and versatile productions, this group of individuals from various regions of California banded together to preserve their cultures' true elements. The group consist of Tha Oktapu$, Royal, j4rd, Taktical, and IyayI da Cali Kid.
Upcoming shows
None scheduled
Formed
2006, San Luis Obispo, CA
Influences
Life, hip-hop
Current status
Currently, we just finished our album, titled Tampered Evidence, and are now promoting the record and getting in as many in shops as possible. We have also been doing a number of shows up and down the California coast, opening for acts such as Rakim, Slick Rick, E-40, Immortal Technique, Andre Nickatina, San Quinn, Boot Camp Click, and many more. Other than that we've bee in the lab working with other artist such as the Boom Bap Project, 40oz. Freaks, A.O.B, Venomous Voices, and others.