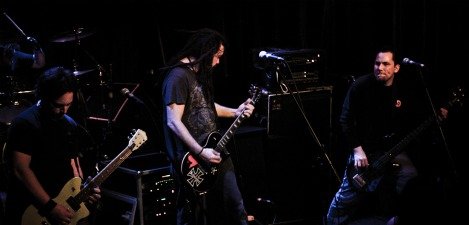 Retrodemon

"Atheist"
"Greybeard"
"Sycophant"

Musicians
Genres: Heavy Rock, Metal
Sound description: A reminder as to why old-school metal was so darn popular. Retrodemon pulls up the roots of metal, bringing us back to the good old days of early Metallica and Black Sabbath with powerful riffs and clean vocals. -The Indy
RIYL: A Perfect Circle, Down, Mastodon, Queens of the Stone Age
Web site: http://www.retrodemon.com/
Email: retrodemon263@gmail.com
History
RETRODEMON is a four piece heavy rock band formed in 2005 by local Santa Barbara music scene veterans, singer/guitarist Giancarlo Mistretta (Creature Feature, Nogahyde), drummer Tyler Clark (Ultraspank, Nogahyde, Indica), guitarist Alastair Greene (Alan Parsons Live Project, Alastair Greene Band) and bassist Dan Ogden (Ultraspank, Indica, Kronix).
After the release of their debut CD "DEMONSTRATION" in 2007 (and the subsequent departure of founding members Ogden and Greene in 2008) the band regrouped with bassist Eric Eskelson (Nogahyde, Backmask) and guitarist Joey Osso (Control-Me-Not). With their lineup finally solidified, the band has been gigging up and down the coast and working on new material.
Upcoming shows
None scheduled
Formed
2005, Santa Barbara, CA
Influences
Alice In Chains, Beatles, Black Sabbath, Corrosion of Conformity, Killing Joke, King's X, Led Zeppelin, Melvins, Metallica, Soundgarden
Current status
Active