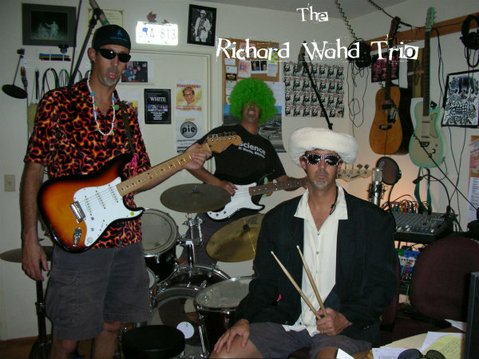 The Richard Wahd Trio

"9th Can of Meisterbrau"
"Mullet On The Go"

Musicians
Genre: Mullet Jazz
Sound description: Booker T. & the M.G.'s meet Eugene Chadbourne
RIYL: Drums, bass, and guitar, sometimes all playing at the same time.
Email: toweldaddy@gmail.com
History
Richard has been taking lessons at Mike's Drum Shop for over a year now and he is totally committed to rocking the trio. In early 2007, he enlisted the obscure and once-prolific artist Towel Daddy Phatwah on guitar, rounding out the bottom end with local bassist Oscar Buncombe, formerly of Fried Tweeter.
Upcoming shows
None scheduled
Formed
2007, Santa Barbara, CA
Influences
All trios, regardless of style or genre.
Current status
The Richard Wahd Trio rarely plays live due to physical limitations that they wish to leave undisclosed. However, they have recently been hitting SB's own Diamond Sky Studios hard, and will be releasing tunes independently and on their own terms, despite serious courting from major labels.