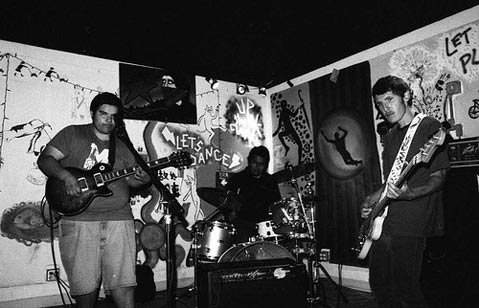 Ruby Manslaughter

"Golden Country"

Musicians
Sound description: The Strokes, if Julian Cassablancas had a baby with either Jeff Buckley or Damien Rice. (At least that's what they've been told.)
RIYL: The Strokes
Web site: http://www.myspace.com/rubymanslaughter
Email: rzarate99@yahoo.com
History
Ruby Man are three guys - Ruben Zarate (guitar/vocals), Chey Huerta (bass), Jose Nunez (drums) - but Grant Kramer is currently stepping in for Jose in his time of absence. They've been a band for not that long, playing shows at Velvet Jones and the Majestic Ventura Theater. The guys are currently working on recording an album and are open for booking.
Upcoming shows
None scheduled
Formed
2006, Santa Barbara, CA
Influences
The Strokes, Beatles, Jeff Buckley Anthony Green, Radiohead
Current status
Ready to play a lot of shows. The guys of Ruby Manslaughter love music and love the music they are producing.