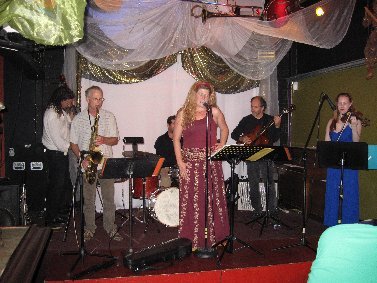 The Sally Cats

"What Is This Thing Called Love"
"You'd Be So Nice - Just One Of Those Things - Blues Skies"

Musicians
Genre: Jazz
Sound description: Jazz
Web site: http://www.voxandfiddle.com
Email: sally@voxandfiddle.com
History
The Sally Cats were formed in 2005 in Santa Barbara, performing in S.B. hot spots including SOhO, Center Stage Theater, and the Lobero Theatre. The band, comprised of the jazz elite from S.B., Ventura, and L.A., released their debut CD, Wonderful Day, in 2009.
Upcoming shows
None scheduled
Formed
2005, Santa Barbara, CA
Influences
Hot jazz & ballads, horns & strings!! A big band to be reckoned with. "You sound like one of those mythical women, in front of the swingin'est bands in the world!! What a cool record & a perfect band for Santa Barbara, I'd imagine..." (Darol Anger on The Sally Cats' CD, <em>Wonderful Day</em>)
Current status
The Sally Cats just performed in L.A. at the Stone Bar and will play at Zoey's in Ventura on August 14.