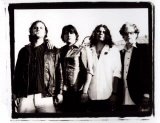 Shades of Day

"MAYDAY!"

Musicians
Genre: Rock
Web site: http://www.shadesofday.net/
Email: brendan@shadesofday.net
History
Anyone caught in the line of fire of this Ojai fivesome's crunchy twin-guitar attack will know that this band understands and embodies the spirit of the 70s. Not the actual 70s, mind you, but the glorious Neverland 70s that exist only in the minds of music geeks under 30 who, somewhere along the line, had the good fortune to discover the first decade or so of the Stones; rock 'n' roll from before it was exiled from the garden, from before it knew it had anything to be embarrassed about.
Formed in Ojai six years ago, the band literally rose from ashes: After two garage-based years, they began the monumental task of converting a century-old barn into a deluxe practice/recording space (the "Red Barn Studio") that perfectly suits their somewhat hippie-esque grassroots ideals. With wailing vocals, searing guitar hooks, and a punch-tight rhythm section, they take the phrase "in your face" literally, and they deliver on that promise.
They've opened shows for Snow Patrol, Blondie, Devon Allman, Little Feat, and Edwin McCain.
Upcoming shows
None scheduled
Formed
2000, Ojai, CA