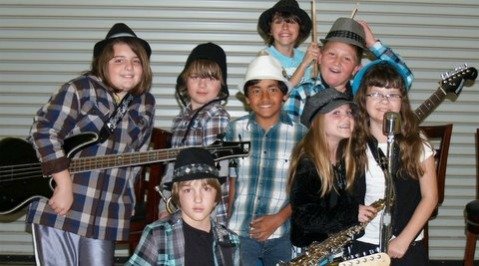 The Soul Mates
Musicians
Genre: Soul
Sound description: Soul music
Web site: http://www.syvsoulmates.com/
Email: syvsoulmates@yahoo.com
History
The Soul Mates are a group of very talented 11-year-old children who have all banded together from different schools throughout the Santa Ynez Valley to form what could very well be the World's
Youngest Soul Band, playing popular hits from the 1960s.
The Soul Mates first started Gigging back in July of 2010 at the 48th annual Old Santa Ynez Days, when their full repertoire was one song: "Mustang Sally." The Soul Mates are ten strong and comprised of Mathew on drums; Jaxson and Nolan on lead and rhythm guitars; Steven on bass;
Sofia on alto sax, Luke on trumpet, Rebecca on keyboards, Sajan on lead vocals, and Olivia and Erica, back-up singers and dancers, one of which plays the violin.
The band is currently holding auditions for three new members — 2nd trumpet, tenor sax, and trombone — thereby anticipating a five-piece brass lineup. Each week the band is steadily busy learning new music, along with perfecting what they have already rehearsed. Their popularity has grown tremendously over the past 12 months, and they are enjoying an accelerated increase in demand, playing many high profile venues including: The 4th of July celebration at Mission Santa Ines, 3rd Wednesdays/Solvang in the Park, The Buellton Barbeque Bonanza, Buellton Car Show, Los Alamos Days, Solvang School Fundraiser, Los Olivos Days, Real Men Cook, The Samuel DePalma Show, Arts on The Avenue… just to mention just a few! The Soul Mates have performed for grand openings of national corporations and have been featured on television specials, such as "The Oliver Hamilton Show."
Audiences of All Ages — from 5 to 95 years old — enjoy the Soul Mates. They even recently performed for a 65th wedding anniversary!
Upcoming shows
None scheduled
Formed
2010, Santa Ynez Valley, CA
Influences
James Brown, Otis Redding, Wilson Picket, Eddy Floyd and Margaret Thatcher
Current status
Practicing, gigging, and having a blast