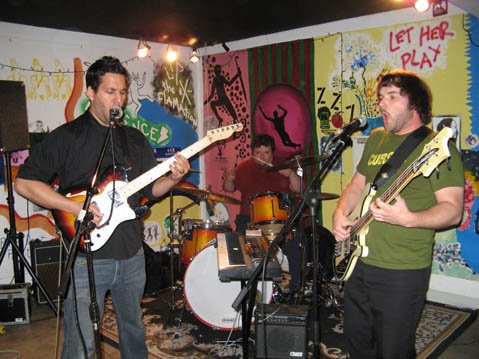 Springtime is Wartime

"No Touching Please"
"Psycho Killer (Harriet Bird Edition)"
"What the Hell is Brimstone?"

Musicians
Genre: Alt / Indie rock
Sound description: A refreshingly energetic cocktail of punk stylings mixed with funky breakdowns that deliver an altogether crunchy yet catchy sound. Think Cursive's instrumentals, James Brown's rhythms, fused with a DIY punk attitude. -The Indy
Web site: http://myspace.com/springtimeiswartime
Email: springtimeiswartime@hotmail.com
History
Brothers Tim and Josh Eymann grew up in Goleta and have been playing in bands together since high school. In spring 2004 they joined with Dave Haq, who grew up in Torrance and went to school at UCSB. They quickly recorded a four-song demo in 2004 and began playing regularly at local venues. In November 2006, they released their full-length album, The Halo is Lit Toight. When not playing music, Tim is an elementary school teacher, Josh is a marketing director, and Dave is a guitar teacher with Anvil Guitar Instruction. Josh and Tim also tried their hand at running an all-ages venue for four years; the now-defunct Hard to Find Showspace.

Upcoming shows
None scheduled
Formed
2004, Goleta, CA
Influences
June of '44, Roadside Monument, Sweep the Leg Johnny, Jawbox, A Minor Forest, Fugazi, 31 Knots, Cinemechanica, James Brown, The Police, Talking Heads, Kool and the Gang, Dillinger Escape Plan, Botch
Current status
Their new album with 10 original songs, A Bad Year for Good Men, will be released any day now. Check their MySpace profile for show listings.